Keep me addicted, Blizzard! (upd.)
Unsere Lieblingsdroge "Blizz" lässt einen auch ohne stetigen Konsum und Reha nicht zur Ruhe kommen.
… Liest man doch gerade überall im Netz spekulationen über Blizzards aktuellen Splashscreen, der gegenüber der gestrigen Version noch mehr (unbrauchbare) Hinweise enthält. Ich persönlich versuche mich bei der Enthüllung am Samstag auf ein "Diablo 3″ zu freuen, aber es wird wohl ein "Wrath of the Lich King" werden… oder doch ein "Starcraft 2″? Vielleicht nur ein Screen für "Blizzards Worldwide Invitational", welches ebenfalls am Samstag stattfindet… ?!
Der Momentane Stand :
unten links wurde eindeutig das Zeichen der Protoss entdeckt.
die Augen sehen denen des "Lich King's" unglaublich ähnlich… vielleicht ist es seine Mutter?
es ist tatsächlich Diablo 3 gewesen… und das Spiel sieht fabelhaft aus!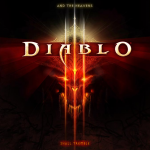 Zero wow Blizzard, Diablo 3, Starcraft 2, wow, Wrath of the Lich King